Webcam above the Old Town of Budva (Live)
Live web cam is located above the Old Town of Budva and shows a view of the Old Town, the sea and the mountains. Old Town in Budva is the main historical attraction of the Budva Riviera. GMT+01:00.
Watch »
Webcam above the Old Town of Budva on map:
Popular live cams:
Daxi Old Street Live Webcam, Taoyuan, Taiwan
Live PTZ webcam shows the Daxi Old Street, in Daxi District of ​​Taoyuan city, Taiwan.
Hvar webcam, Croatia
Town Hvar on island Hvar, Croatia.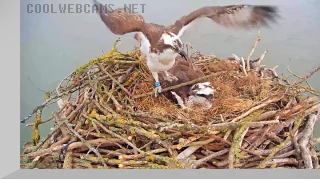 Webcam at the osprey nest in Rutland county, England
Live web cam broadcasts a view of the osprey nest in the English county of Rutland in real time.
Cool webcams news:
Big update of webcams in Saint Petersburg.
Cool Webcams - live and free webcams from around the world.