Webcam in the peregrine falcon nest, Orange (Live)
Live web cam is located in a peregrine falcon nest in the city of Orange. The camera shows in real time the entrance to the nest, which is located in a wooden box on top of a water tower on the grounds of Charles Sturt University in New South Wales in Australia. This box contains three birdwatching webcams. GMT+11:00.
Popular live cams:
Samui Baobab restaurant webcam, Koh Samui, Thailand
Live web cam is installed at the Baobab restaurant on the Lamai beach of Koh Samui in southern Thailand.
PTZ webcam at Haad Rin Beach, Koh Pha-ngan, Thailand
Live PTZ webcam is located on Haad Rin Beach in Koh Pha-ngan Island in Southern Thailand.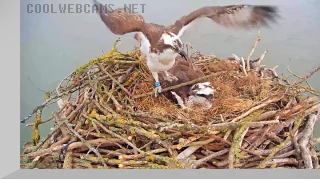 Webcam at the osprey nest in Rutland county, England
Live web cam broadcasts a view of the osprey nest in the English county of Rutland in real time.
Cool webcams news:
Big update of webcams in Saint Petersburg.
Cool Webcams - live and free webcams from around the world.