Gustaf III airport, Gustavia, Saint Barthelemy (Live)
Live web cam shows the Gustaf III airport in real time. The airfield is in the city of Gustavia, on the island of Saint Barthelemy. The camera is directed towards the building of the airport and it clearly shows how the aircraft moves to the runway or leave it. On the front and back plans of video from the webcam, you can see a fairly busy road D209, which skirts the airfield and connects the south-west and north-east coast of the island of Saint Barthelemy. GMT-04:00.
Popular live cams:
Russian Cruiser Aurora Webcam
Russian Cruiser «Aurora» Webcam: live view of the Russian Cruiser Aurora, Saint-Petersburg, Russia.
Crystal Bay Beach Resort Live Webcam, Samui
Live web cam is installed at the Crystal Bay Beach Resort on Koh Samui, Thailand.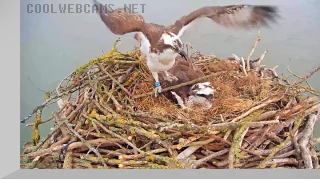 Webcam at the osprey nest in Rutland county, England
Live web cam broadcasts a view of the osprey nest in the English county of Rutland in real time.
Cool webcams news:
Big update of webcams in Saint Petersburg.
Cool Webcams - live and free webcams from around the world.