The James Webb Space Telescope Webcam (Live)
×
The webcam is temporarily offline.
You can watch popular webcams on our
main page
.
The James Webb Space Telescope Webcam: watch the Webb in progress on the "Webb-cam" in the Building 29 cleanroom at Goddard. The screenshot is updated every minute. The cleanroom is generally occupied from 8:00am to 4:30pm Eastern, Monday - Friday. There may not be much activity outside of these hours. GMT-05:00.
Webcam archive picture:
Popular live cams:
Birdhouse Webcam in Recke, Germany
The Live web cam is located in a birdhouse in Recke, Germany.
PTZ webcam in Khabarovsk city
Live PTZ webcam shows different viewes of Khabarovsk city in real time.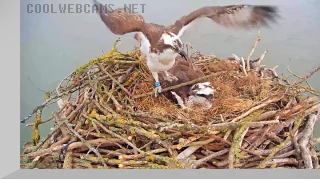 Webcam at the osprey nest in Rutland county, England
Live web cam broadcasts a view of the osprey nest in the English county of Rutland in real time.
Cool webcams news:
Big update of webcams in Saint Petersburg.
Cool Webcams - live and free webcams from around the world.