View from Mount Mashuk (Live)
Webcam broadcasts a live view from Mount Mashuk on Pyatigorsk city in real time. GMT+03:00.
View from Mount Mashuk on map:
Webcam archive picture:
Popular live cams:
Great Gostiny Dvor Webcam
Great Gostiny Dvor Webcam: live from Saint Petersburg, Russia.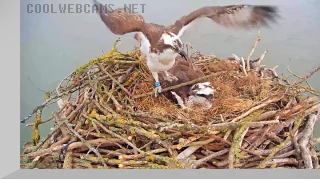 Webcam at the osprey nest in Rutland county, England
Live web cam broadcasts a view of the osprey nest in the English county of Rutland in real time.
Webcam in the Raphael Hall, Hermitage, Saint Petersburg
Live web cam shows the Raphael Hall in the Big Hermitage in real time.
Cool webcams news:
Big update of webcams in Saint Petersburg.
Cool Webcams - live and free webcams from around the world.