Rhine Falls Webcam (Live)
Live PTZ webcam shows the Rhine Falls in real time. The Rhine Falls is located on the River Rhine in Switzerland, in the canton of Schaffhausen, in the commune of Neuhausen am Rheinfall. The waterfall is the largest flat waterfall in Europe. GMT+02:00.
Rhine Falls Webcam on map:
Webcam archive picture:
Popular live cams:
Daxi Old Street Live Webcam, Taoyuan, Taiwan
Live PTZ webcam shows the Daxi Old Street, in Daxi District of ​​Taoyuan city, Taiwan.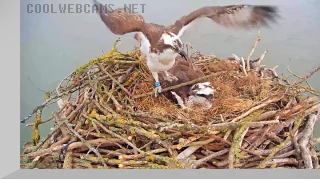 Webcam at the osprey nest in Rutland county, England
Live web cam broadcasts a view of the osprey nest in the English county of Rutland in real time.
Russian Cruiser Aurora Webcam
Russian Cruiser «Aurora» Webcam: live view of the Russian Cruiser Aurora, Saint-Petersburg, Russia.
Cool webcams news:
Big update of webcams in Saint Petersburg.
Cool Webcams - live and free webcams from around the world.