Sanxiantai PTZ webcam, Taiwan (Live)
Live PTZ webcam shows the Sanxiantai area in Taiwan's East Coast National Park in real time. Sanxiantai is a beach and multi-island area located on the coast of Chenggong, Taitung County, Taiwan. The beach is ten kilometers long. The area is well known for its long sea dragon-shaped footbridge that connects the coast to the largest island. The bridge can be seen in this broadcast in one of the positions of the PTZ webcam. The name Sanxiantai means «platform of three immortals», referring to an island with three large standing rocks. GMT+08:00.
Sanxiantai PTZ webcam, Taiwan on map:
Webcam archive picture:
Popular live cams:
Webcam at the Palace Pier, Saint Petersburg
Live web cam is installed on the Palace Pier at the Palace Embankment opposite the Hermitage in Saint Petersburg, Russia.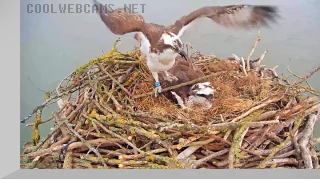 Webcam at the osprey nest in Rutland county, England
Live web cam broadcasts a view of the osprey nest in the English county of Rutland in real time.
Webcam at bird feeders, Gresham, England
Live web cam shows several bird feeders in the village of Gresham in the east of England.
Cool webcams news:
Big update of webcams in Saint Petersburg.
Cool Webcams - live and free webcams from around the world.