Sea Eagle nest webcam, Sydney (Live)
Live web cam shows the nest of the sea eagle in real time. The nest is located on a tree near the Parramatta River in the Olympic Park of Sydney, Australia. A sea eagle, (or a bald eagle) is a bird of prey from the family of hawks. GMT+11:00.
Popular live cams:
Russian Cruiser Aurora Webcam
Russian Cruiser «Aurora» Webcam: live view of the Russian Cruiser Aurora, Saint-Petersburg, Russia.
Chicago Downtown Webcam, USA
Live web cam is installed in Chicago Downtown on the building of the John Hancock Center.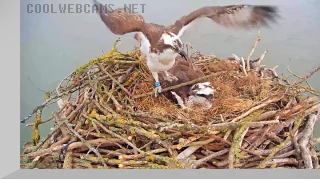 Webcam at the osprey nest in Rutland county, England
Live web cam broadcasts a view of the osprey nest in the English county of Rutland in real time.
Cool webcams news:
Big update of webcams in Saint Petersburg.
Cool Webcams - live and free webcams from around the world.