Taipei PTZ webcam, Taiwan (Live)
Live PTZ webcam shows different views of the city of Taipei on the island of Taiwan in real time. The camera is installed on the observation deck of the Xiangshan hiking trail. GMT+08:00.
Popular live cams: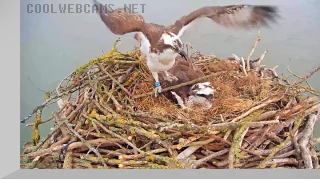 Webcam at the osprey nest in Rutland county, England
Live web cam broadcasts a view of the osprey nest in the English county of Rutland in real time.
Broadcast from webcams of Koh Phangan, Thailand
Live broadcast from several webcams located on the Koh Phangan island in Thailand.
Chicago Downtown Webcam, USA
Live web cam is installed in Chicago Downtown on the building of the John Hancock Center.
Cool webcams news:
Big update of webcams in Saint Petersburg.
Cool Webcams - live and free webcams from around the world.