Venice Webcam (Live)
Venice Webcam: live view of Grand Canal. You'll enjoy the same Grand Canal views as those which inspired French impressionist artist Claude Monet who painted Venice while visiting. GMT+02:00.
Popular live cams:
Chicago Downtown Webcam, USA
Live web cam is installed in Chicago Downtown on the building of the John Hancock Center.
Russian Cruiser Aurora Webcam
Russian Cruiser «Aurora» Webcam: live view of the Russian Cruiser Aurora, Saint-Petersburg, Russia.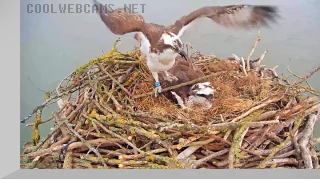 Webcam at the osprey nest in Rutland county, England
Live web cam broadcasts a view of the osprey nest in the English county of Rutland in real time.
Cool webcams news:
Big update of webcams in Saint Petersburg.
Cool Webcams - live and free webcams from around the world.