Webcam in the nest of storks in Dragushinovo village, Bulgaria (Live)
×
The webcam is temporarily offline.
You can watch popular webcams on our
main page
.
Live web cam is installed at the nest of white storks in the village of Dragushinovo, Bulgaria. The camera allows you to observe the life of birds in real time. In spring, storks fly into this nest for breeding. GMT+03:00.
Webcam in the nest of storks in Dragushinovo village, Bulgaria on map:
Webcam archive picture:
Popular live cams:
Red Deer Webcam
Live video from the red deer feeding place on the island of Saaremaa from a real wild forest! The camera is placed at the edge of a wood on the island Saaremaa, Estonia's biggest island.
Webcam with a view of Nevsky Prospect and Anichkov Palace
Live web cam shows a view of the Nevsky Prospect and Anichkov Palace in Saint Petersburg.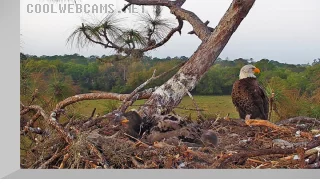 Bald Eagle Webcam, Florida
This eagle's nest is located on private property, which is also a small working cattle ranch, near a large state park in southwest Florida.
Cool webcams news:
Big update of webcams in Saint Petersburg.
Cool Webcams - live and free webcams from around the world.